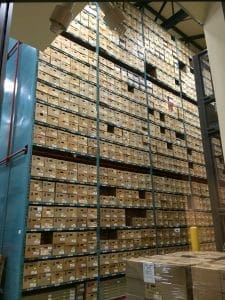 The Archives Committee works to identify and develop resources for the long-term accessibility and preservation of labor records. We strive to develop an educational list of existing Toronto workers' archival collections, bringing to light resources that are lesser known to unions.
What are archives and why are they important?
Archives are specialized repositories that contain original and unique research materials. Generally, these do not include published material such as books and periodicals, but consist of documentation such as correspondence, minutes, notes, photographs, and recordings.
Archives exist in large institutions, such as universities or government, as well as on a smaller scale, such as in community groups or historical societies. Archivists are professionals trained to appraise the long-term historical value of organizational and personal records, and to ensure the continued access to this material through both its description and preservation.
Download a PDF of the Archives Committee brochure: "How to Keep Our History Alive."
Preserving Labour Records: History Matters!
Preserving our heritage provides a vital link to our cultural, educational, inspirational, and economic legacies. These are all things that make us who we are.
Labour records
Help new union members and activists understand our organizations' roots and key moments in labour history
Help educate the public about how labour victories have improved workers' rights and Canadian society
Connect current struggles to past victories
Document decisions to ensure accountability, transparency, and knowledge transfer
Unions need a clear records and retention policy.
Keep those posters, records, buttons, and banners. Keep digital records.
Unions and Labour Archives
When a transfer of records is made to an institution, copyright and any access restrictions are outlined in a Deed of Gift.
A union may have concerns about privacy, proprietary information, publication and how the records will be reproduced and used over the internet. The agreement between the union and the institution could be that the majority of the archive is open to the public for access, but that certain files must remain closed to researchers for a specified number of years after the date of transfer. Or, the union may decide not to deposit certain types of files and keep in their offices.
For sensitive digital materials it may be possible (though rather costly and unwieldly) to create a "dark archive" environment where a terminal is effectively read-only: it's physically located in an archival reading room, not connected to the wider internet. You can't copy and paste from it and screen shots are disabled.
Archives generally prefer to keep access restrictions to a minimum. From a technical standpoint they are rather cumbersome to administer. From a philosophical standpoint, most archives want their materials to be maximally accessible. From an administrative or financial standpoint, lengthy access restrictions that cover large parts of an archive are very often a disincentive to collecting institutions. The institution is devoting a lot of space and administrative cost to an archive, which is of little practical use to researchers until long into the future. Strong access restrictions basically prevent anyone from using archival material during its period of currency and/or maximum public interest, so that by the time they lapse the material is no longer felt to be particularly relevant or worth investigating.
Oral Histories
Another way that historical information is stored is through oral histories. These can be interviews and records of people's experiences documented in various ways, including video cassettes, tape recorders, laptops, phones, various other recording devices, and paper transcripts. Insofar as these records can be retrieved with the right technological equipment, they retain valuable contributions to Toronto workers' history.
Any contributions of oral histories are welcome for addition to the TWHP archives. Furthermore, many aspects of Toronto's history have been witnessed by people still alive today. Creating new oral history records is therefore encouraged to add to the TWHP archive project.
Please contact us directly to discuss how we can work together
Need help, advice, or suggestions about your collection? Contact our committee: info@twhp.ca with the subject line, "Attention Archives Committee." We welcome your feedback on these webpages.
Contact Us
Contact Us form for TWHP