1832: Toronto's journeymen printers form the York Typographical Society. Four years later their strike against employing printers is broken. William Lyon Mackenzie is the leader of the union busting. The union expires in 1837 but is revived in 1844.
1837: Mackenzie leads the unsuccessful Upper Canada Rebellion in pursuit of democracy and Canadian self-government. Samuel Lount and Peter Matthews are executed for participating.
1846-47: Although Irish immigrants have been pouring into Upper Canada for years, the "Famine" sends thousand more impoverished newcomers, many of them in very poor health.
1853: The Provincial Freeman is founded as a weekly Black newspaper; Mary Ann Shadd Cary is the first woman and Black woman publisher.
1858: Toronto boot and shoe workers are the first group to attach their local union to an organization with headquarters in the United States. The next year the moulders do the same, as do the locomotive engineers and cigarmakers in 1865 and the printers in 1866. These workers thus launch what would become known as "international unionism."
1871: In order to pursue common concerns across occupational boundaries, craft unions in the city found the Toronto Trades Assembly, a forerunner to today's Labour Council.
1872: In February Toronto workers organize a Nine Hour League as part of a movement spreading across central Canada demanding a nine-hour working day with no loss in pay (instead of ten to twelve hours). They argue that this will be better for all of society, give workers leisure to spend with families, at cultural pursuits, and educating themselves.
The movement develops a coordinated strategy of general strikes to start May 1872, in Hamilton, but the Toronto Typographical Union jumps the gun and in March strikes against the newspaper publishers, led by George Brown's Globe. In April, 1872, 10,000 supporters of the printers rally in Queen's Park. The Executive Committee of the Printers' Union are arrested and charged with seditious conspiracy. Sir John A. Macdonald's government in Ottawa then passes a Trade Unions Act that makes unions legal, rather than criminal conspiracies.
During the strike, Toronto labour leaders begin publishing The Ontario Workman, the city's (and Canada's) first labour newspaper. It continues for several years.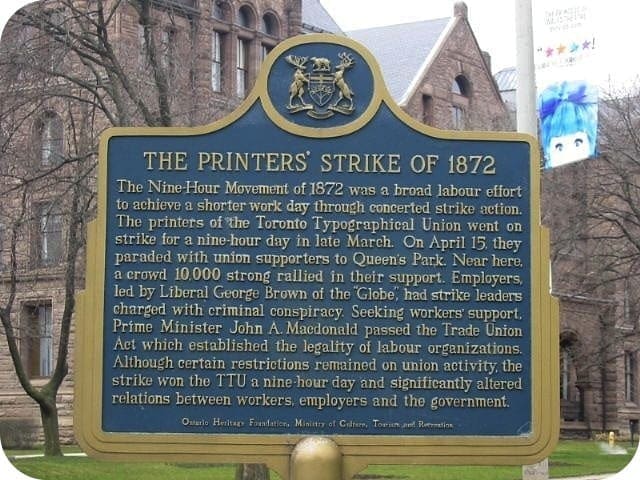 1877: Labour leaders lobby successfully to get an amendment to the Criminal Code to protect peaceful protests and pickets.
1881: A new central body, now known as the Toronto Trades and Labor Council, is formed. In subsequent years, its demands to federal and provincial governments will include inspection of working conditions; a limit to the length of the working day; and prohibition of child labour.
1882: Toronto telegraphers organize the first branch of the Knights of Labor in the city. Over the next few years this international organization will draw in some 5,000 workers in more than fifty "local assemblies." Unlike the craft unions, the organization is committed to organizing all workers, including women and blacks (though regrettably not Chinese). It declines abruptly in the late 1880s under the pressure of unemployment, employer hostility, and internal disputes.
1882: The first Labour Day is celebrated in Toronto with a huge parade and picnic. Four years later, arrangements are made for free entrance into Canadian National Exhibition for labour members on the first Saturday of the "Ex", when 50% of receipts are turned over to labour. In 1894 Parliament finally makes the first Monday in September a legal public holiday.
1883: The first woman member arrives in the Toronto Trades and Labor Council as the delegate from a female shoe workers' union.
1883: The Toronto Trades and Labor Council organizes the city's first independent labour campaign in a provincial election. The labour candidates lose, but the council runs another slate in 1886, again without success.
1884: The Ontario government passes the Ontario Factories Act (not implemented until 1886), which sets minimum age and maximum hours of work for women and children, and thus begins to reduce child labour. But it applies only to workplaces with more than twenty employees and is enforced by only a small handful of inspectors.
1885: Toronto's biggest strikes in the late nineteenth century are on the Street Railway, first in 1885 and then in 1886. The company refuses to recognize the Knights of Labor as representatives of the workers in Toronto, but the people of Toronto refuse to ride on street cars run by scabs. The strike fails when Knights leaders insist on putting funds and time into a cooperative street railway project instead of supporting the strikers. There would be another tumultuous street railway strike in 1902.
1885: Not all workers are equal. The Electoral Franchise Act stipulates that a voter is "a male person, including an Indian [i.e., Aboriginal as long as they gave up their treaty rights/status] and excluding a person of Mongolian or Chinese Race."
1885: The Chinese Immigration Act introduces a $50 head tax. In 1900 it is raised to $100 and in 1903 to $500. By 1923 the Canadian government will have collected $35 million from the tax.
1886: The craft unions and the Knights of Labor unite in founding of the Trades and Labour Congress of Canada, which will last until it merges into the Canadian Labour Congress in 1956. Its role is to lobby for labour legislation. It is a parallel national organization to the American Federation of Labor, but much smaller and weaker.
1886: Across North America, on May 1st, workers strike for the eight-hour day and thus launch a tradition that would become known as May Day. In 1889 the European socialists proclaim May Day as an international day of workers' protest. The first May Day celebrations in Toronto will not occur for more than twenty years, but in the 1920s and 1930s thousands of workers will march in celebration of the day.
1891: The first "Black Flag" demonstration of unemployed workers demanding "Work or Bread" marched from St Andrew's Square to City Hall.
1895: The Union Label League was organized in Toronto to campaign for support for union-made products.
1898: A Labour Day brochure to "Organize, Educate, Resist" is distributed; this slogan is revived in 1996 for the Toronto Days of Action against the Harris government.
1899: Toronto radicals form a branch of the Canadian Socialist League, the country's first home-grown socialist organization.
1900: In response to labour's demands for more information on labour conditions, the federal government launches a Department of Labour, with a monthly journal, conciliation services for industrial disputes, and the young William Lyon Mackenzie King as deputy minister. The same year the Ontario government opens a much smaller and less effective Bureau of Labour.
1902 Under pressure from the American Federation of Labor, craft unionists in the Trade and Labor Congress expel all independent unions that existed alongside the US-based internationals, including the remnants of the Knights of Labour, some Quebec locals, and the Provincial Workingmen's Association in Nova Scotia.
1904 Toronto socialists join the new Socialist Party of Canada, an electoral party dedicated to the complete eradication of capitalism.
1904 The Toronto Labor Temple is opened as a meeting place for the city's unions.
1907 Mackenzie King introduces the Industrial Disputes Investigation Act. It required all workers/employers in transportation, utilities, and resource industries (the engines of economy) to submit disputes to a three-person conciliation board before striking/locking out. The board heard evidence and issued a report, and required a "cooling off period" before a strike could happen. This "cooling-off period" gave employers time to stockpile, bring in scabs, fire organizers, etc. This law remains the cornerstone of Canadian industrial relations policy.
1907 Toronto printers win the eight-hour day, when most other workers still had a ten-hour workday.
1910 Most Toronto socialists join the breakaway movement from the Socialist Party of Canada and join the new Social Democratic Party, which focuses more on immediate reforms on the road to revolution. In 1914 the party gets their candidate Jimmy Simpson elected to the Board of Control (twenty years later he will be Toronto's mayor). The party is organized into ethnic sections, notably those of Finns, Jews, Ukrainians, and Russians.
1912 Over the objections of some craft unions, the Toronto Trades and Labor Council votes to endorse industrial unionism as the preferred mode of organizing – a reflection of the need to unite workers in large-scale mass-production industry.
1912 As part of a new wave of organizing among less skilled workers, garment workers at Eaton's, both women and men, wage a major battle against new work rules.
1914 Ontario passes a Workmen's Compensation Act for workers injured in the workplace. Workers no longer have to sue their bosses to get compensation for workplace injuries, but domestic servants and farm labourers are excluded from coverage.
1914 Canada enters World War One, and Toronto industries start retooling to produce munitions and clothing for the war effort. Many more women are encouraged to take up industrial jobs. Under the War Measures Act, the labour press is censored. German, Austrian, Ukrainian, Bulgarian, and Turkish immigrants have to register with the police, and some are sent to internment camps.
1917 Retail prices are rising far faster than wages, and labour leaders start denouncing profiteering and demanding "conscription of wealth." In response the federal government appoints a Food Controller and introduces the first Income Tax, which at this point does not touch workers' wages.
1917 One thousand people turn up to a May Day celebration of the recent Russian Revolution organized by the Ukrainian Social Democrats. Worried about the growing radicalism, the federal government will ban several radical organizations and publications in September 1918 and will begin to jail and deport European immigrant radicals. A small underground Communist Party begins to operate in Toronto and other cities late in 1918 and early 1919, hoping to incite a revolutionary uprising, but state repression brings its activities to a halt.
1917 Black sleeping-car porters in Canada form their first union – the Order of Sleeping Car Porters.
1917 Women in Ontario get the vote, and a year later get the federal vote, provided they are not Status Indian, Inuit, or Chinese.
1917 The Greater Toronto Labor Party is formed, an affiliate of the Independent Labor Party of Ontario. It attracts a huge membership.
1918 Union membership soars as the war economy soaks up the unemployed and gives workers more bargaining clout. Many new groups of workers are organized, including women, immigrants, and public-sector workers. And their militancy explodes into numerous strikes, including one by the Toronto police. In October the federal government moves to curb all this action by banning strikes.
1918 A group of militant women form the Women's Labor League to agitate for better working conditions for women. Their first bold campaign is an attempt to organize Toronto's domestic servants into a union.
1919 In mid May a general strike starts in Toronto in support of the Metal Trades Council's demands for an eight-hour day and union recognition – a parallel action to the famous Winnipeg general strike that is taking off at the same time. Some 17,000 workers walk out, but many more refuse to join. The strike is called off after two weeks, and the metal workers are eventually defeated. Meanwhile, big strikes of garment workers, street railway workers, carpenters, and packinghouse workers had been more successful. The harsh and restrictive Immigration Act of 1919 is passed, refusing entry to immigrants who are sick or left wing; methods of deporting people are laid out in law.
1919 In October Ontario voters elect eleven Independent Labor Party candidates to the Ontario Legislature, who form a coalition with the elected representatives of the United Farmers of Ontario to create the country's first Farmer-Labour government. Toronto's four ILP candidates are not successful, however. The government is defeated in 1923.
1920 Ontario's first full-fledged Department of Labour is organized, with a separate minister in the Cabinet.
1920 Impoverished widows with at least two children can now apply for a Mothers' Allowance.
1920 A province Minimum Wage Board begins setting lower limits on wages for women wage-earners, but, instead of a single rate, sets different rates for each industry – all of them low.
1921 The provincial government finally removes the property qualification to run for municipal office, which had kept so many workers out of elected office.
1921 Several Toronto radicals participate in the founding of the Communist Party of Canada in a barn outside Guelph.
1923 The Chinese Exclusion/Immigration Act is passed to stop Chinese immigration and to amend the definition of British subjects to keep out those who aren't white out.
1924 When kosher meat gets too expensive, Jewish women from a wide range of organizations organize a boycott, which within two weeks brings prices down. Another such successful boycott takes place in 1933, with mass picketing of butcher shops.
1927 To win support for his minority government from the Labour MPs led by J. S. Woodsworth, Mackenzie King introduces the first Old Age Pension legislation, which is available to those over seventy who can prove their poverty. Ontario delays joining the program until 1929.
1927 Some Toronto unions, notably the Canadian Brotherhood of Railway Employees, help to launch a new national central, the All-Canadian Congress of Labour, which opposes international unionism. Communist unionists are also involved.
1929 Toronto's police chief launches a war on the city's Communists, whose meetings and demonstrations are regularly broken up and whose leaders are frequently arrested. In 1931 the federal government outlaws the party and sends its leaders to the Kingston Penitentiary.
1929 Toronto Communists take a leading role in the creation of a new radical union central, the Workers Unity League, dedicated to militant industrial unionism and socialist revolution. The league will lead numerous strikes in the early 1930s, notably the Toronto garment workers' struggle. As part of general Communist Party policy, affiliates of the league will merge back into the mainstream labour movement in 1935.
1931 Unemployed family men form the East York Workers' Association to agitate on behalf of the unemployed in that eastern suburb. In 1935 the group called a strike of men working for relief when payments were slashed. Similar organizations appeared in other parts of the city.
1931 The first of several strikes by female garment workers takes place in the Spadina district. They would strike several times during the 1930s.
1932 Local government start sending unmarried, unemployed men Relief Camps run by the Department of National Defence, where they worked for twenty cents a day. In 1935 these workers stream out of the camps, led by a Relief Camp Workers' Union, and begin an On-to-Ottawa Trek to demand work and wages from the federal government, which responds by harshly breaking up the trek in Regina. Toronto workers had their own trek to Ottawa.
1933 Toronto socialists participate in the founding of a new social-democratic party, the Cooperative Commonwealth Federation in Regina, whose manifesto promises social security, social planning, and greater worker control.
1933 Some 7,000 people are deported (often for their political beliefs) including whole families. During the Depression, people of colour are more likely to be deported, are generally not eligible for relief (or received less), are not eligible for old age pensions (i.e. Chinese seniors), and are not allowed into the relief camps.
1935 Committee for Industrial Organizing is formed within the American Federation of Labour to organize mass production industries. In Toronto its greatest success before the war was in the garment industry.
1937 The Canadian Jewish Labour Committee is formed to spearhead a campaign to end discrimination and promote human rights within the labour movement..
1939 Canada declares war on Germany and its allies. War industries spring up and recruit thousands of workers, including women. Unions' memberships soars. But the government clamps wage controls on workers, and requires most unionized workers to go through compulsory conciliation without any requirement that employers recognize their unions and bargain with them.
1940 Canadian CIO organizations join with the All-Canadian Congress of Labour to create the Canadian Congress of Labour as a new central for industrial unions. Each city and province has separate councils and federations.
1941 The federal government introduces Unemployment Insurance.
1942 The Toronto Division of the Brotherhood of Sleeping Car Porters is organized. Three years later it signs a first collective agreement.
1942 Popular support for the Cooperative Commonwealth Federation is growing. When the new federal Conservative leader runs for election in the Toronto riding of York South, he is defeated by the CCF's Joseph Noseworthy.
1943 In the Ontario general election, the CCF wins 34 seats, including several in Toronto, and, with only four fewer seats than the victorious Conservatives, forms the official opposition at Queen's Park.
1944 Fearful of rising labour strength, the federal government under Mackenzie King passes an order in council, P.C. 1003, which enables unions to be certified and requires employers to bargain with certified unions. In 1948 this new legislative framework is made permanent in new federal and provincial laws.
1944 Toronto workers benefit from the Ontario government's new Hours of Work Act, which legalizes the eight-hour day and paid vacations.
1946 As a result of a lengthy strike against Ford in Windsor, Justice Ivan Rand issues an arbitration award that establishes a principle known as the Rand Formula, whereby all workers must pay union dues in a unionized workplace, regardless of whether or not they are union members. This formula become widely adopted across Canada.
1946 Igor Gouzenko, a Soviet official, defects, and triggers a large-scale fear of Communist subversion in Canada as part of the new Cold War. In 1948-50 both the Canadian Congress of Labor and the Trades and Labor Congress join in the anti-Communist hysteria by expelling affiliates led by Communists. In Toronto this affected workers in the United Electrical Workers, the International Leather and Fur Workers, and the Canadian Seamen's Union, in particular.
1947 All Toronto's packinghouse workers join a two-month national strike of meatpacking plants.
1947 The Chinese Immigration Act was abolished, and Chinese-Canadians received the vote.
1948 Workers at Eaton's join the Retail Wholesale Department Store Union, and begin a four-year union drive for recognition. They are unsuccessful but will succeed in a renewed organizing effort in 1985.
1950 A national strike of all railway workers shuts down transportation and brings back-to-work legislation and compulsory arbitration.
1951 Elderly workers over age 64 are given access to government old-age insurance benefits, although means tests are still required for those under 70.
1956 The Canadian Labour Congress is formed by a merger of the Trades and Labour Congress and the Canadian Congress of Labour. It was intended to end raiding and show a united labour front. Local labour councils and provincial. federations are also unified.
1958 The Ontario Human Rights Commission is created to combat discrimination.
1960 Five immigrant Italian construction workers die while tunnelling 35 feet underground through Hogg's Hollow. The outcry following their deaths fuels new investigations and eventually tightening of workplace safety standards.
1960 Some 6,000 Toronto workers in residential construction, many of them Italian immigrants, who are trying to cope with poor pay and uncertain jobs, walk out on strike in defiance of labour legislation, led by a new union group known as the Brandon Hall Union Group. The next year, even more strike again. Their concerns are sent to arbitration, and a royal commission is set up to investigate.
1961 Discussions between the CLC leadership and CCF leaders result in creation of the New Democratic Party, taking a step away from a socialist vision towards vigorous reform in order to attract middle-class support.
1961 Workers at the Royal York Hotel are forced out on a long bitter strike.
1963 The Ontario Women's Bureau is created to deal with issues related to working women.
1964 Printers at Toronto's three daily newspapers walk out on strike over technological change in the composing rooms. The strike was never settled.
1965 Toronto's postal workers and letter carriers earning poverty wages go on a wildcat strike in July for a hefty wage increase that also included workers in several other Canadian cities. They won a substantial pay hike, and convinced the federal government to allow civil servants the right to strike in the new Public Service Staff Relations Act two years later.
1967 After years of pressure from labour, the federal and provincial governments introduce government health-insurance.
1972 New Ontario legislation recognizes the Ontario Civil Service Association of Ontario as the bargaining agent for the province's civil servants. Three years later the organization changes its name to the Ontario Public Service Employees Union (OPSEU).
1973 Hundreds of workers and students turn out to support the striking workers, most of them immigrants, at Artistic Woodwork, where police violence creates public outrage.
1974 Three hundred injured workers meet to form the Union of Injured Workers to agitate for better treatment of those with workplace injuries and better health and safety legislation.
1975 Toronto's Grace Hartman is elected as the second president of the Canadian Union of Public Employees, becoming the first woman to lead a major labour union in North America.
1975 Cleaners Action is created out of St Christopher's settlement house to assist women working as cleaners in downtown office buildings.
1975 Prime Minister Pierre E. Trudeau introduces Wage and Price Controls. Workers in companies with more than 500 employees, construction firms of more than 20. elf-employed professionals and the federal public sector had caps on all compensation of 8% in the first year, 6% in the second, and 4% in the third. Prices were more loosely monitored and difficult to control.
1975 The Canadian Union of Public Employees is Canada's largest union.
1975 The Urban Alliance on Race Relations is formed to provide educational programs and research, which are critical in addressing racism in society.
1976 On October 14, 1976, a Day of Protest over Wage and Price Controls. one million workers skip work to unite against the Canadian government over wage and price controls. Workers are unhappy with the current Trudeau government because of rising retail prices and anti inflation policies. The Canadian Labour Congress becomes a political force.
1978 Wage controls are lifted, but serious cuts in Unemployment Insurance (now known as Employment Insurance) benefits are introduced along with severe tightening of eligibility criteria.
1978 International Women's Day marches being in Toronto.
1978 The English in the Workplace Program is launched in Toronto.
1978 The Canadian Union of Postal Workers is set to strike; the federal government threatens legislation before the strike begins and arrests leader Jean-Claude Parrot for failing to order workers to stay at work. Three years later, CUPW strikes to get the first paid maternity leave provisions in their collective agreement.
1979 The United Food and Commercial Workers is formed through the merger of the Amalgamated Meat Cutters and the Retail Clerks International Union.
1981 Ontario's hospital workers walk out on an illegal strike. CUPE President Grace Hartman is jailed for failing to order them back to work.
1981 Thousands of Toronto workers join the 100,000 from across Canada rallying on Parliament Hill to protest the federal government's monetarist policies.
1981 The labour magazine Our Times is founded.
1982 The Ontario government passes the Inflation Restraint Act, which imposes wage controls on public employees.
1982 Nine construction unions break away from the Canadian Labour Congress over issues of "excessive" Canadian autonomy from US-based unions, and formed a new national central, the Canadian Federation of Labour.
1982 Gay Pride celebrations begin in Toronto.
1984 Twelve hundred workers in six Eaton's stores in Toronto join the Retail Wholesale and Department Store Union, but, after fruitless bargaining, walk out on a strike that lasts more than six months. They get strong support from women's groups in Toronto, but the contract they are ultimately able to sign is weak, and two years later workers in five of the six stores vote to decertify their union.
1985 The Canadian Auto Workers become independent of their former parent union, the United Auto Workers. This process is later documented in the film Final Offer.
1986 The Ontario Coalition of Black Trade Unionists is formed.
1986 The annual Mayworks festival of labour arts is launched.
1987 The Supreme Court of Canada refuses to extend charter protection to collective bargaining and striking rights.
1987 The Pro-Canada Network (later renamed the Action Canada Network) is founded as a coalition of labour unions, professional organizations, and social groups opposed to the free trade agenda.
1987 The Labour Education Centre is founded.
1989 Free Trade Agreement is signed with the United States.
1990 Further cuts in Unemployment Insurance (EI) benefits and eligibility continue until the mid-1990s.
1990 An NDP government is elected in Ontario.
1991 The Supreme Court of Canada rules that the Rand Formula is legitimate.
1993 Ontario's NDP government introduces the Social Contract. Some 900,000 government workers in offices, schools, hospitals, universities, and so on are stuck with a three-year wage freeze (in the form of unpaid "Rae Days").
1994 North American Free Trade Agreement comes into effect.
1995 Federal government announces massive cuts in transfer payments for social programs.
1996 A quarter of a million people hit the streets in Toronto in the city's Days of Action to protest the policies of the Mike Harris Conservative government.
2012 Ontario Premier Dalton McGuinty and the Liberal party pass Bill 115 'Putting Students First Act 2012', thereby eliminating the rights of all teachers in the province to go on strike for the next two years. Bill 115 also freezes wages, grants ten sick days per year (down from twenty) and eliminates banked sick days from previous years. Unions state that this bill is a violation of their members' rights under the Charter of Rights and Freedoms and that the bill violates the Ontario Labour Relations Act of 1995.
2013 Unifor is formed through the merger of the Canadian Auto Workers and the Communications, Energy and Paperworkers Union of Canada, becoming the largest private-sector union in the country.
2013 Unifor is formed through the merger of the Canadian Auto Workers and the Communications, Energy and Paperworkers Union of Canada, becoming the largest private-sector union in the country.
2013 Unifor is formed through the merger of the Canadian Auto Workers and the Communications, Energy and Paperworkers Union of Canada, becoming the largest private-sector union in the country.